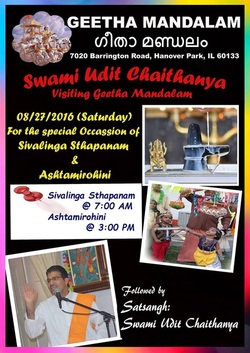 Hara Hara Maha Deva.....
Dear friends,
Geetha Mandalam, Chicago is achieving another milestone. We have completed the construction of a beautiful "Mahadeva Sreekovil," and the Sivalingam with Nandi have been imported from Kerala, India. We will have the "Sivalinga Sthapanam "on Saturday, August 27, 2016. The opportunity to participate in a Sivalinga Sthapanam is a once in a life time opportunity.
Poojas for Sivalinga sthapanam will start from 7.00 A.M
From 3.00 P.M:
Ashtami Rohini Celebrations will include :
- Sobha Yatra,
- Procession with children dressed as "Krisha and GoPikas" will march through the streets of Hanover Park.
- "Uriyadi" - Breaking of the pots
- Bhajans... Narayaneeyam Chanting.....

This will be followed by:
- Special Maha Deva Pooja and Deeparadhana
- Discourse by: Swami Udit Chaithanyaji
Geetha Mandalam Governing Body invite all of you to attend this special day with your family and friends.
If you are interested to offer any Poojas on this special occassion, please contact us at geethamandalam1978@gmail.com.

Om Nama Sivaya....
For Geetha Mandalam Governing Body,
Jay Chandran - President
847-361-7653
Byju S. Menon - Secretary
847-749-7444
Appukuttan S. Kalakkal - Treasurer
630-772-3577

---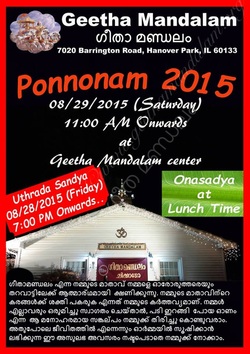 Dear Friends,
This year Geetha Mandalam is celebrating Onam in a very authentic way - the Same way we used to celebrate in " the good old days" in Kerala.
This Onam will not be a typical "Stage Show". We will celebrate ONAM in our 'Tharavadu' - Geetha Mandalam Center, 7020 Barrington Road, Hanover Park, IL 60133, from 11.00 AM in true Kerala Style, on August 29, 2015 (Saturday). Please arrive with your family at 11.00 AM.
Ona Sadya will be served in the traditional way during lunch time, followed by Aathapoove, Thiruvathira, and variety entertainments etc. We expect to conclude our celebrations by 5.00 PM.
We invite all of you to attend this unique and TRUE Onam celebrations with our Geetha Mandalam family.
Admission is FREE (Donations are always welcome to cover expenses). Please reserve your admission by sending an email to geethamandalam1978@gmail.com.
Geetha Mandalam Governing Body is proudly inviting all of you to celebrate ONAM in its true sense...

Jay Chandran - President

Byju S. Menon - Secretary

Appukuttan Kalakkal - Treasurer
---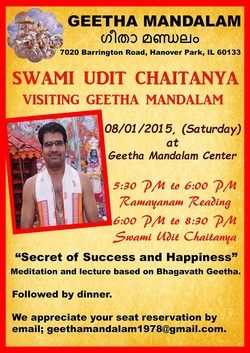 Hari OM,
Dear friends,
Swami Udit Chaitanya is visiting Geetha Mandalam on Saturday, August 1, 2015.
He will be talking on " Secret of Success and Happiness" based on Bhagavat Geetha.
Kindly reserve your seat by email at Geethamandalam1978@gmail.com.
Looking forward to see you all on August 1, (Saturday), 2015.
For Geetha Mandalam Governing Body,
Jay Chandran
- President
Byju S Menon
- Secretary
Appukuttan Kalakkal Sekharan - Treasurer

---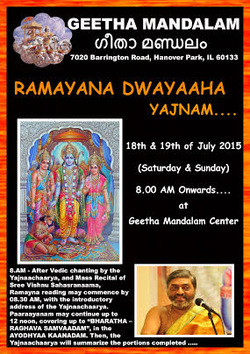 Ramayana Masam in Kerala is observed in the Malayalam month Karkidakam (July – August). On all days in the month, the Epic Ramayana is read in traditional Hindu houses, by Hindu organizations and in temples dedicated to Lord Vishnu. In 2015, the Ramayana Masam begins on July 17 and ends on August 16. The reading of the Ramayan begins on the first day of the month and is completely read by last day of the month.
The famous Malayalam Version of the Ramayana titled Adhyatma Ramayanam Kilippattu written by Thunchath Ezhuthachan is the one recited in the month. After lighting the evening lamp, people sit before nilavilakku (traditional Kerala lamp) and recite the Adhyatma Ramayanam. The reading of the epic is managed in such a way that the reading ends on the last day in the Karkidakam Month.
The Karkidakam month is the last month in the Malayalam calendar. The monsoon is at its peak in this month; and during olden days majority of the people in Kerala depended on agriculture. Due to heavy rain, the Karkidakam month is referred as 'panja masam' or the month of scarcity.
With the paddy fields flooded, there used to be no work and the economy used to come to a stand still. People used to solely depend on what grains they had stored during the previous harvest season. There used be such heavy rains that it was even hard to go outside the house or village and earn a living. To ward off nature's fury people used to read the Ramayana. As per Malayalam Panchangam, new ventures and auspicious functions are not held during this month.Instead of doing in houses, the Ramayanam is now read in temples and in programs conducted by organizations. Hindu spiritual and religious organizations organize public discourses,Pravachanam, and recitals based on Ramayana in the month.
"Geetha Mandalam will start this auspicious month with a "Ramayana Dwayaha Yajnam" by Acharya Shri. Mannady Hari on July 18 (Saturday) and July 19, 2015 (Sunday). These 2 full days of programs are planned to give us detailed messages of Ramayana. More emphasis will be given to interpret the messages of Ramayana by Acharya Shri. Mannady Hari.Geetha Mandalam governing Body welcome all of you to attend both days and make this a grand success.

---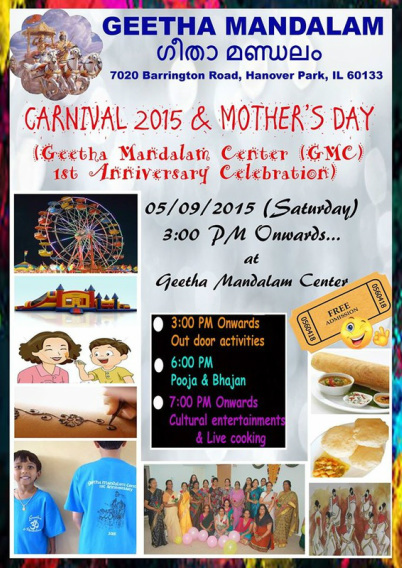 Dear friends,

We are planning to celebrate the Mothers Day and 1st Anniversary of our Geetha Mandalam Center (GMC) on Saturday, May 9th , 2015.
We have planned several fun activities for the whole family including:

Face Painting for Children
Balloon Artist,
Mehndi Artist for Ladies.
Moon Jumper with basketball hoop.
Live Cooking: Dosa Bar etc.
Variety Entertainments.
...
Free Admission. (Donations are always welcome to help cover expenses).

Please bring the family!
COME & ENJOY !!!!




Looking forward to see you ALL for a fun filled day!

From the Geetha Mandalam Governing Body,

Jay Chandran - President.
Byju S Menon - Secretary
Appukuttan Kalakkal Sekharan - Treasurer.
---

"Bhajan Classes for Children".
Dear friends,
Before our Bhajans on 2nd & Last Saturday, we will offer Bhajan classes for young children. Mr. Anand Prabhakar & Team will lead the classes. Time: From 5.00 P.M to 6.00 PM. Please bring your young ones to the class and let them learn our Bhajans. More over it will give them an opportunity to make new friend circles.

First class will start on 02/14/15 (Saturday).

For Geetha Mandalam Governing body,

Jay Chandran - President
Byju S. Menon - Secretary
Aje Pillai - Treasurer.